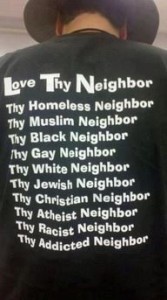 I remember a time when people were so mad about who had been elected president that dumb news stories, whether they were true or not would get posted. I got so tired of it, that I unfollowed people on my Facebook or just stayed off of it for a time. Fast forward 8 years and now I see it again.
I've gotten cynical about the whole political scene. Most of which is done for show on TV. The 24 hour news channels eat it up or make it up so that they can sell advertising.  Most people don't realize that they are basically being sold to those to the advertisers.
I've long subscribed to the saying, "If it bleeds, it leads," to the whole of the news media. I try very hard to pick and chose my sources carefully, and then double and triple check them for facts left unsaid, or left out, because all the journalists are political operatives with a byline.
I see friends and family being lead down the path. I was there a long time ago. I turned a corner about halfway through Bush 2's second term, realizing all that was happening. I tried to tell people that they are being used, but to no avail. As humorist Scott Adams says (I'm paraphrasing here), they are living in their own movie, and so are we. I'm not adept to being a persuader. I have to be careful with who or what I listen to. It is possible that if I look at Facebook too long, I'll get depressed. I've pretty much stopped looking at twitter. I listen to a new deconstruction podcast, which helps to lighten my moods, because they are pretty funny, but my moods still swing.
As I watch the news, there are those that tell me that I'm irrelevant. That my opinions don't matter, because I am privileged, judging me before I even open my mouth, or do anything. The pendulum swings, "fight the (blank)!" The pendulum swings back, "fight the (blank we said was good before)!" I'm beginning to realize the meaning behind the book of Ecclesiastes. "Meaningless! Meaningless!"
    says the Teacher.
"Utterly meaningless!
    Everything is meaningless." – Ecclesiastes 1:2 (NIV)
Fight, fight, everything is fight. What about Love? I realized recently that nobody wants to love unconditionally, because they don't want to love those that wronged them, the original sin. They say they follow Jesus, but really they follow Moses (the law). And now we have fallen into the time of the book of Judges (Everyone did as they saw fit).